Benefits of Hiring a Web Developer over Using Page Builders like WIX & SquareSpace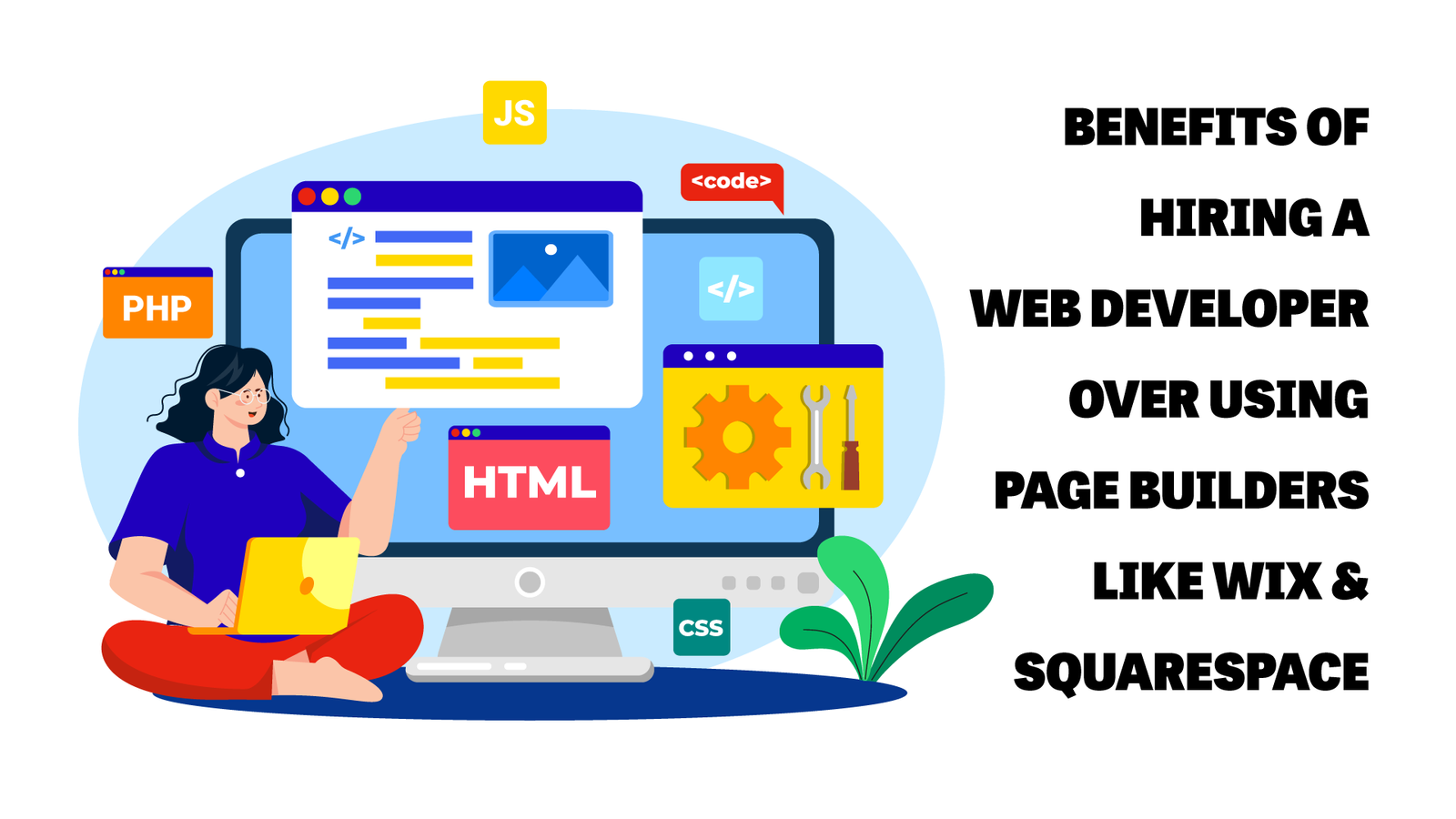 Posted: January 4, 2019 | By: Jordan Halliday | Updated: January 11, 2023
As a business owner, you understand the importance of having a website for your organization. It can serve as a crucial tool for reaching new customers, increasing sales, and establishing a strong online presence. However, many business owners are tempted to use website builders like Wix or SquareSpace to create their website in order to save money. But is this really the best decision for your business? In this blog post, we will explain why hiring a web developer might be a better choice for your organization.
Customization
One of the biggest benefits of hiring a web developer over using a website builder is the level of customization you can achieve. Website builders like Wix and SquareSpace offer limited customization options. This means that your website will look similar to many others and may not stand out in the way you want it to. On the other hand, a web developer can create a truly unique design for your website, ensuring that it reflects your brand and differentiates you from your competitors.
For example, a web developer can create a custom layout, use your brand's color scheme, and integrate any necessary functionality, such as an e-commerce platform, that you need. A web developer can also build a website to be fully responsive, which is essential for having a website that is easy to use and engage on any device.
Power
Another benefit of hiring a web developer is the level of power and flexibility that you gain when creating your website. A web developer can create any web or mobile app that you can imagine, from a simple brochure website to a complex web-based software. This means that your website can truly reflect your unique business needs and help you achieve your goals.
For example, if you're running a retail store and you want to offer a personalized shopping experience for your customers, a web developer can create an e-commerce platform that recommends products based on a customer's browsing and purchase history. This type of app can significantly increase sales and customer retention, which is something that website builders may not provide.
Ownership & Migration
When you use website builders like Squarespace or Wix, the website is built on their proprietary platform, using their specific templates, tools and design elements. This means that the website cannot be easily transferred or "migrated" to another platform or hosting service should you choose to discontinue their service. It's like the old saying "Don't build your house on someone else's land". You don't want to build your website on a proprietary platform that is owned by someone else.
In contrast, a custom-built website is created using open-source and/or industry standard technology, such as HTML, CSS, JavaScript, PHP & MySQL. These technologies are not proprietary and the website can be moved to a different hosting service or platform with relative ease, because it doesn't rely on specific tools or templates.
Another consideration when it comes to migrating a website is the data migration, as custom built sites will have data in structured format and will be easy to extract it and reuse it on other platforms but that's not the case with website builders, they tend to save data in a non-structured format making it difficult to extract it.
It's worth mentioning that migrating a website is not something that should be taken lightly, as it can be a complex and time-consuming process. However, having a custom-built website gives you the flexibility to make that move if needed, whereas a website built on a proprietary platform like Squarespace or Wix can be quite restricted.
Cost-Benefit
Many business owners assume that using a website builder will save them money in the long run. However, in reality, that's not always the case. Website builders often charge for additional features, such as custom domains, storage, and more. On the other hand, when you hire a web developer, you can work out a fixed price that covers all the necessary features and functionalities.
Additionally, a web developer can help your website maintain good visibility and performance, which can attract more customers and increase revenue, more than using website builders would.
In conclusion, hiring a web developer over using a website builder like Wix and SquareSpace can be a better choice for your business. It will give you more flexibility and customization in your website design and help you achieve your unique business goals. With a web developer, you can create a website that truly reflects your brand and stands out from the competition.
Are you ready to get started?